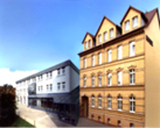 The Hotel
The Akzent Hotel Delitzsch / Leipzig with its historical brick building from the turn of the century and the newly built hotel building with conference rooms, was designed from the ground up from scratch.
The conservatory connects the buildings and invites you to a rich breakfast buffet and culinary, Saxon specialties.
Local and national newspapers are available at reception.
More than 30 parking spaces are available on site and free of charge.


The Location
This city hotel is located in the center of Delitzsch in a quiet location near the train station. It is only a short walk to the train station, bus station, railway vehicle business, taxi stand and the center.
With the S-Bahn or the car it takes only about 10-15 minutes to reach, either, the Leipzig fair or the newly renovated Leipzig central station in the city center.
To the USH (the Army school for non-committed officers) you drive about 5 minutes.
Arrival – Departure
On arrival the rooms are available from 3 PM onwards and remain reserved until 6 PM, unless a later arrival time has been agreed. Should, on the day of the departure, the room be required later than 10 AM, you will have to coordinate this with the hotel management. At the arrival or departure your luggage may be left in an enclosed space.
Arrival - around-the-clock
On working days our reception is open until 10 PM and on the weekend until 8 PM. An arrival is possible with us around the clock. You will have to inquire with us by phone the required code number for the "KeyBoy" at the entrance of the hotel, where your room key will be deposited.
Festivities
For festive occasions, events and meetings, there are suitable rooms available. Let us know your wishes and we will gladly submit our proposals and offers. Arrangements for conferences, groups and weekend rates are available on request.